I had limited time to adventure out onto the showroom floor at CHA in LA - but the time I did spend out there I noticed a few things I think fall into the "trend" category...... Here's a peak at the first one that caught my eye.
That's Entertainment!

 

When Creativity Knocks recently held Crafting Under the Big Top make and take take sessions and taped two special episodes at the Craftwell booth at Winter CHA.

Complete with a portable big top, an adorable ringmaster costume and hat made by Ana Araujo for our host Megan Araujo (Megan was not impressed with the hat….but we sure did have some fun with it!), and custom made aprons for those of us manning the make & take booth, we were right on TREND!
My first recollection of the circus theme entering the creative world was when TaDa Creative Studios participated in our first WCK Great Crafter's Paper Cut in 2010 with their Big Top Collection. TaDa also graciously donated their Under the Big Top Collection for the Craftwell Crafting Under the Big Top make and takes and the Elmer's Cards for the Troops make and takes - THANK YOU TADA CREATIVE STUDIOS! www.tadacreativestudios.com.
I wonder if they knew they were at the beginning of an upcoming trend?! Fast forward to CHA Winter 2011, and we see the Studio Calico State Fair collection

www.studiocalico.com

Graphic 45 brings us Le Cirque www.g45papers.com. GCD Studios offers Fun House http://www.gcdstudios.com/ , while Imaginesce's Animal Crackers collection features such fun papers as "Under the Big Top". www.imaginisce.com/.
Circus themed rubber stamps, dies, stickers, and other embellishments are also readily available.
Tim Holtz Cling Rubber Stamps THE BIG TOP Circus- Stampers Anonymous


Almost every paper manufacturer had something to add to the celebrations theme - and many had a touch of the circus or fair thrown in for fun. Whether you are looking for bright and colorful, softly rustic, or absolutely vintage - there are circus/fair themed papers, stamps, and more available to you now!

Graphic 45's Le Cirque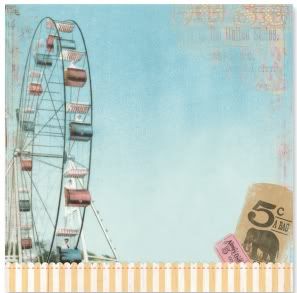 GCD Studio's Fun House - A peak at their line!




"Midway" from Studio Calico's State Fair Collection




TaDa Creative Studios' Big Top Mini Mes gives a peak at
their colorful collection, only in mini!


"Under the Big Top" from Imaginesce